Guest
Information
Trip Planning and Logistical Information
How to go Rogue
Inevitably you may have some questions about your Rogue River multi-day trip. Our office is available to answer any questions you might have and to also be a resource for planning your visit to the Rogue River. We are based in Ashland, Oregon and have lots of local tips to make your visit to Southern Oregon not only a wonderful vacation but also as easy as possible. We are available via phone at 541-282-4535, email (info@indigocreekoutfitters.com), or you can stop by and say "hello" at our Rafting Center located at 130 A Street near downtown Ashland. Below are some important details about your trip. We've also tried to address the most common questions we get regarding our multi-day trips.

Trip Meeting Location: Galice Resort
Galice Resort: 11744 Galice Rd, Merlin, OR 97532

Our Rogue River multi-day trips meet at the Galice Resort at 9:00 a.m. the morning of your trip. Galice has lodging available and is a convenient place to stay the night prior to your trip. If you are driving:
North on Interstate 5 (Medford, Ashland)
1. Take exit 61.
2. Turn left at the end of the ramp.
3. Go straight through the stoplight and continue for exactly 15 miles. This road turns into the "Merlin Galice Road."
4. The Galice Resort will be on your right.
South on Interstate 5 (Portland, Seattle)
1. Take exit 61.
2. Turn left at the stop light towards Merlin.
3. Continue for exactly 15 miles. This road turns into the "Merlin Galice Road."
4. The Galice Resort will be on your right.
Places to stay before your trip
If you are traveling from out of the area you will probably want to stay somewhere nearby our meeting location at Galice Resort. You can stay at Galice, however there are many other options nearby.
Nearby Lodging Options (within half an hour of our meeting location)
Lodging options in Medford, Oregon (1 hour away)
Lodging options in Ashland, Oregon (1 hour and fifteen minutes away)
Flying to Medford International Airport (MFR)
Medford International Airport is serviced by United Airlines, Delta, Allegiant and Horizon Air. Flights inbound to Medford start from San Francisco, Seattle, Portland, Salt Lake City, Denver, Las Vegas and Los Angeles.
Please plan your flight to arrive the day before your river trip. For your return flight, please do not plan to fly out on the same day as your trip gets off the river.
To get from the airport to our meeting location (Galice Resort) you can either rent a car or stay in Medford or Ashland and Indigo Creek Outfitters will transport you to Galice the morning of your trip ($100 one-way for a 12 passenger van). If you would like this additional service, please call our office at 541-282-4535.
Packing for your Rogue River trip
During our pre-trip meeting (9:00 a.m. at Galice Resort on the day of your trip) we will provide you with a large dry bag ("camp bag") and a small dry bag ("day bag"). These waterproof bags will carry your belongings for the duration of our time on the river. The large dry bag measures 16″ in diameter and 25″ tall when closure is rolled to maximum volume.
Professional Guide Tips and Tricks
"Pack your clothing into a soft duffel bag or laundry bag so that it is easily fits in the dry bag next to other items. Use small ziplock bags to organize medicine and toiletries. My 'must have' is a pillow. Bring one and you'll sleep like a king (or queen)."
– Nick Pabst, Indigo Creek Outfitters
Dietary Requests and Food Allergies
With advance notice we are happy to accommodate most dietary requests. At the time of your reservation we try to collect as much information as possible to make your trip perfect for you. This includes food preferences, requests, and allergies. If you have any questions, concerns, or simply want to update your roster information, please call our office at 541-282-4535 or email info@indigocreekoutfitters.com.
Are showers available?
Yes, at each camp we set-up showers in a private "shower tent." Of course, sometimes swimming in the river is a perfect and refreshing bath. You may use biodegradable soap and shampoo in the river and in our shower tent.
What types of boats will be on my trip?
We typically have a few different boats to choose from:
1. Oar boats – these rafts carry the majority of our gear and also provide a comfortable place to kick back and relax as your guide rows the boat downstream.
2. Paddle boats – these rafts are more participatory and passengers will have a paddle to help move the boat downstream. A guide in the back controls the raft with oars while giving instruction to the crew.
3. Inflatable kayaks (aka "duckies) – The most active way to head downstream is in an inflatable kayak. These boats are fast, super maneuverable, and an absolute blast to run through rapids. You'll follow a paddle boat and the guide will give you pointers for each rapid.
Over the course of each day you will have the opportunity to change boats.
Professional Guide Tips and Tricks
"Everyone should try out the inflatable kayaks at some point during the trip. If you are nervous, talk to a guide about 'testing' one at camp the first night. That way you can get a feel for the boat and how stable they are without actually heading downstream through rapids. Practicing in flat water at camp will build your confidence. Before you know it you'll be charging through rapids."
– Tyler "TJ" Vandehey, Indigo Creek Outfitters
What is the typical weather like on the Rogue River?
In Southern Oregon we like to say that "if you don't like the weather, wait ten minutes." In other words, weather can change really quickly and you should be prepared for sun, rain, hot, and cold weather throughout your trip. Mornings can be cool (down to 50 degrees) and afternoons can be hot (100 degrees), so having a variety of clothing will help you be comfortable.
Average Highs / Lows in fahrenheit
April: 64 / 40
May: 72 / 45
June: 80 / 50
July: 89 / 55
August: 89 / 54
September: 82 / 47
October: 69 / 41
How much water is in the Rogue River?
The Rogue River is dam-controlled by the William Jess Dam, which forms Lost Creek Lake. This is a large dam that creates a storage capacity of 315,000 acre feet and supplies the Rogue River with an adequate flow for rafting year round. There are numerous tributaries to the Rogue River downstream of the dam that can also add a substantial amount of water to the river. Thus, if there are rain or snow melt events the river can rise and fall regardless of the outflow from William Jess Dam. There are a number of USGS gauges that measure the water flow and temperature of the river. The most common one to look at for the Wild & Scenic Rogue River is the Agness gauge. The town of Agness is located a few miles downstream of our take out location (Foster Bar).
In the United States, most rivers are measured in "Cubic Feet Per Second," or in river guide lingo "CFS." One cubic foot is similar to the box a basketball is packaged in. Our guides have run the Rogue when flows in Agness have ranged from 800 CFS to 90,000 CFS (yes, the river gets high – read the trip report here). Here is the current and predicted flow from Agness: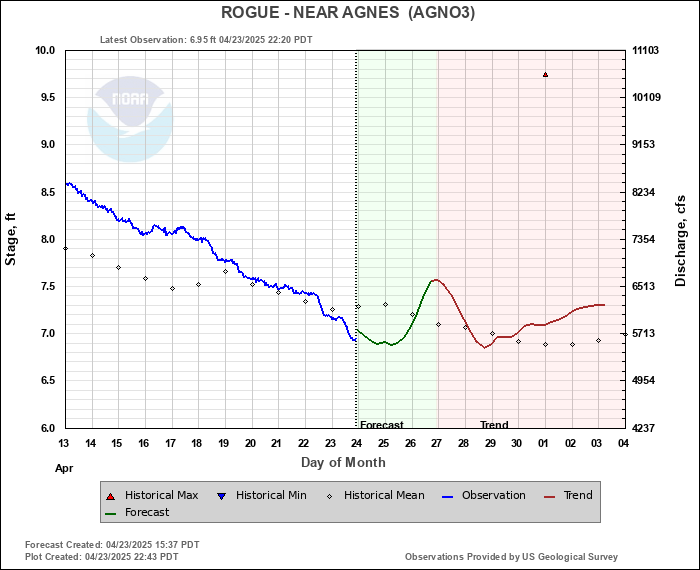 Can I bring my favorite beverages on my trip?
Yes, absolutely. Cans are best but we can also take glass bottles. We have safe storage space in dry boxes and coolers. For obvious safety reasons, we do not provide access to alcoholic beverages while on the river.
Professional Guide Tips and Tricks
"Don't put your bottle of wine in your dry bag. It will break and your clothes and sleeping bag will smell like white wine for the rest of the trip. Give it to a guide and we'll put it in a cooler for you."
– Thorn Lyons, Indigo Creek Outfitters
How much room is there for my personal belongings?
The large dry bag measures 16″ in diameter and 25″ tall when closure is rolled to maximum volume. We also provide a smaller dry bag that you have access to throughout the day. Please limit your personal items to these bags. If you have additional items we can probably accommodate them, but please contact our office so we know ahead of time. Call us at 541-282-4535 or info@indigocreekoutfitters.com.
What kind of sleeping pads do you provide?
We are proud to offer the best sleeping pads made for river trips to our guests. These are "Jack's Plastic Super Paco Sleeping Pads" that are ultra-comfortable, thick, and extremely durable. They are, without question, the most comfortable sleeping pad offered by any outfitter on the Rogue River.
Professional Guide Tips and Tricks
"Since Paco Pads are waterproof and inflatable, try floating on yours in an eddy next to camp when the afternoon heat peaks."
– Emily Berlant, Indigo Creek Outfitters
What are the toilets like?
Depending on where we camp, there will either be an outhouse or porta-potty set-up near camp. If we have a porta-potty, we always will have it set-up in a private location that is easily accessed from camp. We use an indicator (normally a paddle) to show whether the "bathroom" is in use.
Professional Guide Tips and Tricks
"At some point before the sun goes down, scout out the path to the bathroom. When it's the middle of the night you'll appreciate the foresight in knowing exactly where it's located, rather than looking for it in the dark."
– Kacy Carlson, Indigo Creek Outfitters
Spiders, snakes, and Bears – Oh my!
We'll be traveling through a wilderness area that is home to many creatures. It is very common over the course of our trips to see bear, deer, bald eagles, and other wildlife. For the most part, these animals are harmless and not interested in what we are doing. We do take precautions to keep human and wildlife interactions to a minimum and these will be discussed by our guides before your trip and at camp.
Can I bring a musical instrument?
Yes, absolutely. We've had guitars, harmonicas, banjos, and even a bagpipe on the river. Let our office know ahead of time if you will need a special waterproof bag for your instrument.
Rogue River Multi-Day
Trip Highlights
40 miles of outstanding whitewater and fun rapids surrounded by an incredible river canyon.
Gorgeous river side camps with great views, swimming holes, and extra-comfortable tent sites.
Historical sites and old homesteads that are only accessible from the river.
Amazing hikes up side creeks and along the river, including the famous "Rogue River Trail."
Wildlife everywhere – from eagles to bear, to otter and salmon, the Rogue is home to many.
Why Indigo Creek?
An exceptional crew of guides who are professional, fun and family friendly. Learn more about our staff.
Ultra-comfortable camping set-up by our camp boat and ready when we arrive at camp. Large tents, thick sleeping pads, and sleeping bags are provided for your trip.
Delicious, organic, and regionally-sourced foods. All of our food is purchased from the Ashland Food Coop.